Bigcommerce vs Shopify vs Woocommerce – Detailed Comparison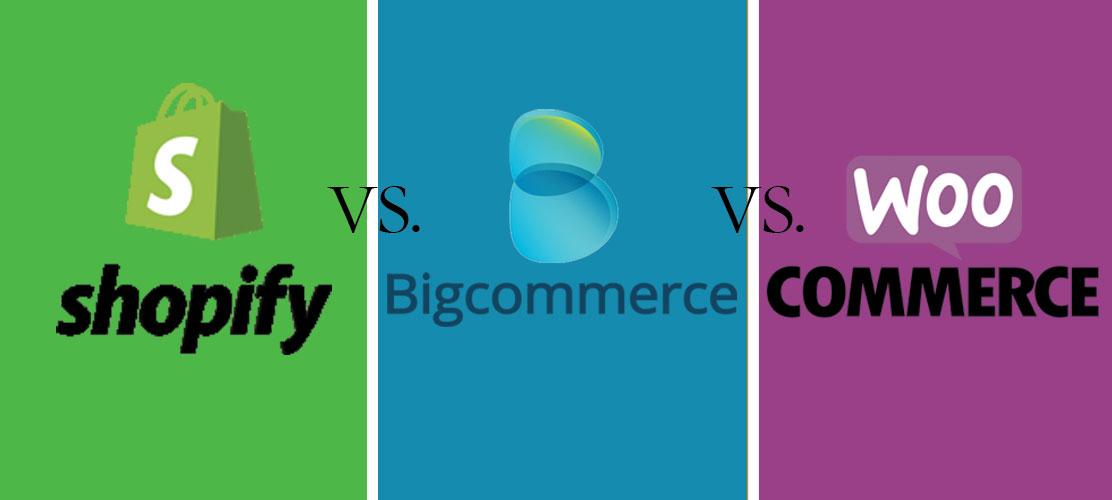 When you are looking to open your online store, the first thing you need to decide is which platform you will be using. This is very important as single mistake in deciding your platform can cost you later when you realize that you can chosen a wrong and very restricting platform. Bigcommerce vs Shopify vs Woocommerce
This is why we are comparing Top 3 E-Commerce solutions (Bigcommerce vs Shopify vs Woocommerce) available.
We deep dived and did the research for you, so providing you with only the best solution and comparison. This Top 3 E-Commerce solution review includes everything from Pricing, Design, User Friendliness, SEO, Marketing, Features to Pros and Cons.
We hope that this will help you in deciding your E-Commerce platform much easily. If you have any questions, please feel free to comment below or contact us directly. Now let's get started!
 E-commerce Solutions
Shopify
WooCommerce
Bigcommerce
PRICE (MONTHLY)
$9
$29
$79
$179

 free 

$29.95
$79.95
$199.95
UNLIMITED PRODUCT ATTRIBUTES
MOBILE COMMERCE
IN-BUILT MARKETING
EASE OF USE

  

9 / 10
8 / 10

 8 / 10 

OVERALL SCORE
9 / 10
8 / 10

8 / 10 

VISIT:
Our Full Top 3 E-commerce Solutions Review
(Bigcommerce vs Shopify vs Woocommerce)
Top Features:
Powers more than 325,000 online stores.
Professionally designed ready to use themes.
User friendly website builder.
Code files are easily editable (HTML/CSS).
One of the finest eCommerce solution.
Best in class SEO and marketing solution.
Shopify personal app store, so you can add functionality to your store as required.
PROS:
Very friendly support, quick response and offers live chat/toll free number support.
Best in class SEO and marketing tools.
User friendly interface and simple understandable designs.
You only have to pay one monthly fee and you have hosting free + eCommerce solution.
Cons:
You cannot create new product attributes other than what Shopify provides. You can simply add as many options under it, but you cannot create new ones.
Shopify Checkout page is not customizable (but we like how they put together a nice checkout page layout).
Pricing:
Facebook Store – $9/month.
Basic Shopify – $29/month.
Shopify – $79/month.
Advanced Shopify – $299/month.
If you are starting out, you can eventually start with as low as $29/month.
Top Features:
Responsive designs (mobile and tablet friendly).
Your store reports and payments gateways comes by default.
SEO friendly and marketing tools
Live store builder and template customization.
Integrates with tons of online services (accounting, marketing, emails, etc).
PROS:
Bigcommerce provides free hosting, so you only have to pay their monthly plan fee.
Easy to use marketing and SEO tools
User friendly admin panel.
Live Website builder, which really helps in making live changes.
Reports are well organized and provide with much detail.
Cons:
Plans starting from $29.95/month.
Editing code can be sometimes feel difficult if you are not familiar with HTML/CSS.
Pricing:
Standard – $29.95.
Plus – $79.95.
Pro – $199.95.
They also offer Enterprise plan for larger online businesses.
3. WooCommerce
Top Features:
Open source eCommerce solution powered by WordPress.
User friendly interface.
Free to use (without any monthly charge).
Options to set custom shipping rates/methods.
Integrates with almost every payments method out there.
PROS:
Users can easily provide reviews on their purchase.
Free themes available on theme store.
It's free to use.
Provides you with decent sales/customer reports.
CONS:
You need to host your website yourself on a web hosting.
It's free to use, but that means that you will have to do all the work yourself. That includes building your store, setting up payment, products, and your website layout. Pretty much everything. If you have some web design skills, you surely can do that!
Pricing:
Winner
We have used all 3 eCommerce solutions, but from experiencing and customer feedback we declare Shopify as the winner.
We hope this helped you in deciding your eCommerce platform. if you liked our Bigcommerce vs Shopify vs Woocommerce comparison, be sure to let us know on the comments section below.